We understand just how important bridal jewellery is for adding those finishing touches to every bride's outfit.
Our overall bridal jewellery style can be described as classic and timeless, meaning the jewellery will be enjoyed long after the big day. From drop earrings, studs and pendants to matching sets and mixing it up, there is plenty to choose from. This spring we will be introducing new bridal jewellery which will include vintage-inspired pieces and plenty more sparkle. We also love that many of our silver bridal jewellery pieces cross over into more than one look, for example our
tennis bracelet
perfectly radiates a classic yet glamourous vibe. Or take our new and stunning entwined vine earrings and
entwined vine drop pearl necklace
, eye-catching pieces with floral notes and movement for a statement look with a romantic twist.
When choosing bridal jewellery for our boutique, we are constantly drawn to freshwater pearls, sparkle and sterling silver combined with exceptional craftsmanship. Throughout history, pearls have been a popular gemstone for weddings and it's easy to see why. Their dreamy and chic look works perfectly for plenty of themes and styles, from vintage to classic to modern bridal jewellery.
Choosing bridal jewellery for you
When choosing bridal jewellery that is perfect for you, there is a lot to think about! Below are a few tips to consider when making a decision.
The Dress
Bridal jewellery will help to accessorise possibly the most important outfit a bride will ever wear. It should enhance and complement but never upstage! The design, colour and the intricacy of your outfit will all have an influence on your choice of jewellery, for example, pearls look stunning when paired with a white or ivory gown. The neckline is an important detail. For a strapless or a sweetheart neckline, a shorter necklace such as a choker will probably work better than a longer necklace. The reverse is true for a deep neckline. For a halter neck, think about statement earrings or hair accessories instead. A plainer neckline will work as a canvas for more detailed or ornate jewellery. And don't forget any embellishments on the outfit, such as beading on a gown, will help to determine the metal and stones. Think about creating harmony among all the different elements to create one stunning cohesive look.
Work within your comfort zone and be yourself
Think about what you feel most comfortable in. If you're really comfortable with a pair of statement earrings, go for it! But if you generally prefer studs, find a gorgeous pair to work with your outfit. You'll want to be able to wear this jewellery long after the big day so think about choosing bridal jewellery that works with other favourite outfits so you can enjoy it time and time again.
Bridal hairstyle
If you plan to wear your hair up or half down, an eye-catching pair of statement earrings could work beautifully. If you plan on wearing it down, you might be better off focusing on a stunning necklace or bracelet.
Wedding theme
Does the wedding have a strong theme? Is it classic, vintage, boho, old-school glamour, summer garden party or a specific era? This may help steer the direction of the jewellery. For example, if the wedding is full of classic and understated elegant touches, pearls and diamonds or cubic zirconias could be perfect as timeless wedding bridal jewellery. If you're capturing an old-school glamourous vibe, experiment with plenty of sparkle but possibly focus on one piece of jewellery as the leading lady and the rest to complement it.
Time of day
This could help to decide your bridal jewellery from everyday chic to evening glamour. Or, if you're planning an outfit change for the evening, dress up your jewellery for the night time event.
Budget
This is obviously very important and we make our silver bridal jewellery accessible, allowing budget to be focused elsewhere for the big day.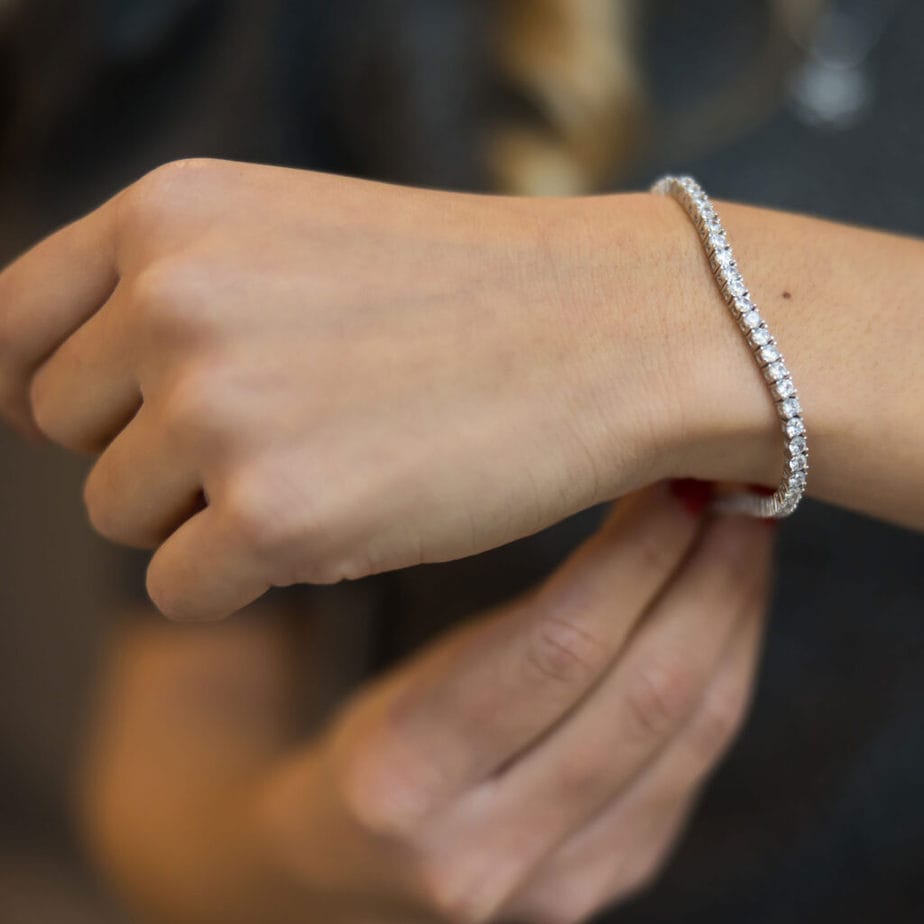 Every bride wants to look completely stunning on her wedding day, which obviously includes her wedding bridal jewellery, however the overall look differs quite significantly according to country and culture.
In the West, it is traditional for the bride to wear white or ivory and with an all-white theme, diamonds, cubic zirconias and pearls are popular jewellery choices. Dreamy, chic and dramatic, white or off-white is always stunning and this has continued into modern bridal jewellery.
Gold is important in the wedding bridal jewellery of many countries such as India, Thailand, China, Indonesia and Nepal. In Indian Hindu weddings, the bride traditionally wears sixteen pieces of gorgeous jewellery which are usually made of yellow gold and are adorned with gemstones.
Traditionally, silver bridal jewellery has also been favoured. The Berber tribes of North Africa traditionally wore silver bridal jewellery with gemstones or cabochons such as coral or amber to provide protection from bad luck. And, in some parts of China, silver bridal jewellery is considered auspicious. For example, the Dong people of Southwest China treasure silver and families collect silver jewellery for their daughters to wear on her wedding day.